KB Dental, a company that brightens and enlightens the world
Production facilities
It uses a double fine hair that effectively removes plaque by wrapping two teeth and the head part becomes integral with the tooth surface when brushing. It is produced through a hygienic automated production process that uses an ergonomic flat handle that delivers the exact force to the part you want to wipe.
Step 1 - Injection production
PETG is injected into the mold to form the toothbrush handle.
Step 2 - Working on the hair
Minimize the pressure on the handle of the toothbrush.
Step 3 - Complete inspection
Complete inspection of the completed toothbrush according to the standard of appearance inspection.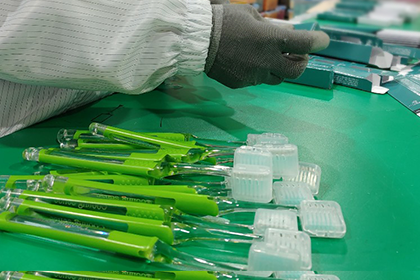 Step 4 - Delivery of packaging
We pack according to the packaging procedure of the individually packaged toothbrush.