KB Dental, a company that brightens and enlightens the world
Production facilities
The entire process is made of an automated system, and a certain amount of Dupont tynex wire is inserted between stainless wires of high-strength tension, twisted and cut variously by size, and then produced through a hygienic production process that cuts a certain amount of wire length.
Step 1 - Brush manufacturing
Using the raw materials passed through the import inspection, the wire is processed according to the process chart and the brush is manufactured.
Step 2 - Washing/Inspection
The finished brush is cleaned and inspected through a total inspection.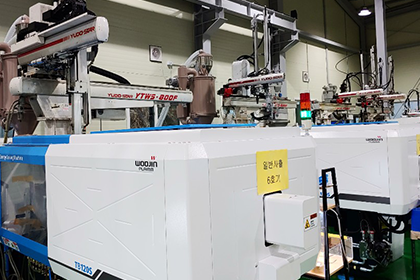 Step 3 - Injection molding
Heat the raw material to plasticize it, then hydraulically shoot the molten resin into the mold to make an interdental brush handle.
Step 4 - Assemble the cap
Install the cap on the injection molded handle.
Step 5 - Inspection/Packing
Performs a complete inspection of the appearance of the finished interdental brush, and performs packaging work on the passed products according to the packaging procedure.